Bathroom Sign Ideas
The bathroom can be the toughest room in the house to decorate.  Aside from paint, a great way to spice up the bathroom is with some custom handmade signs, which are actually pretty easy to build or paint DIY style.  The only materials you really need are:
Wood the size of the sign that you want
The color of paint you want for the background
Color of paint you want for the lettering
Sandpaper
We typically make rustic signs for multiple reasons:
Our house is newer and we really like the contrast of old and new
Makes for a great DIY project
They are all unique and handmade by us
Greater room for error (the more you mess up, the more 'rustic' it is! :))
Here are a couple really cool signs we've come across.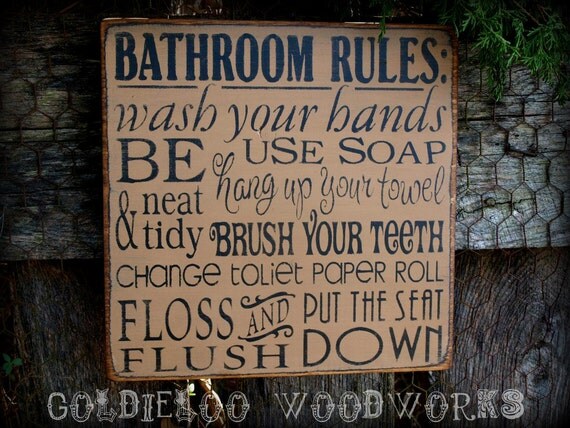 From Etsy, but you can easily make this yourself as well.
Very cool Brush Your Teeth sign from Tracy's Trinkets.
From Tracy's Trinkets.  Simple photo of toothbrushes and a frame – that's it!
Hopefully you can take some of these ideas for your bathroom and go make some signage and cool decorations for the nearly impossible room to decorate for!
Bathroom Sign Ideas

,